We have recently added cux.io to the list of permanent services we use at WP Corner Shop. It generates heatmaps  (of user clicks and/or mouse movements) and allows you to see video recordings of your visitor's website journey.
What makes it different from other heatmapping tools is its game-changing feature called the Conversion Waterfall which lets you track almost event on a site.
Why you might you want heatmaps?
There is no easier way to find design flaws that could be killing your conversion rate:
Perhaps a confusingly labelled menu item is getting no clicks.  It made sense to you, but not your visitors?
Perhaps your main "call to action" (CTA) is being usurped by less important features on your page?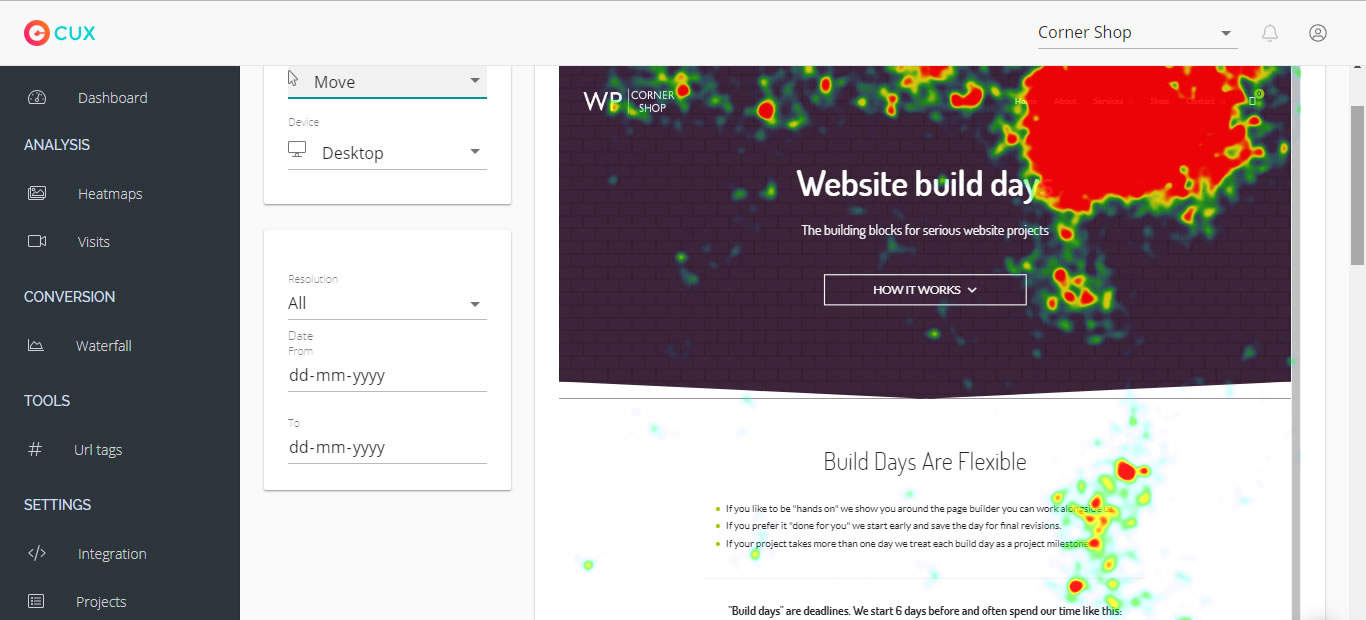 Why you might you want to video track users?
Although you can skip inaction this is more time consuming, but it's the closest you can get to do user testing. It can be extremely revealing.
Perhaps you want to see what sections on a page hold your visitor's attention and what does not?
Perhaps you have a shop and want to see all the people who abandoned your cart and what they did?
Perhaps your site has hidden pages like the process to change passwords and want to see how visitors handle it?
Killer Feature – The Conversion Waterfall.
This allows you to measure and manipulate the data like never before. Imagination is the real limiter here as you can isolate almost any user event against any other events.
Perhaps you want to know what percentage of people land on a page with a form and start to fill it in?
Perhaps you want to know what percentage people don't complete and at which field they get stuck?
Perhaps you want to know if those who saw a popup event on a specific page filled you contact form (or ordered) more than those who did not?
Do you think you might need this?
Although the service starts from 99 euros per month we offer this to WP Corner Shop customers for only our set up costs.
Contact us at support@wpcornershop.com
This service is GDPR complaint as it removes any personal information.